About us and our Terms of Sale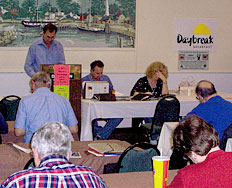 Miller's Stamp Company was established by Irving Miller on October 2, 1969 in Uncasville, Connecticut.
We have an office located at 12 Douglas Lane, Suite 3, in Waterford, CT 06385 This office is open by appointment only. We sell U.S. and Foreign Stamps and Collections for 50% or more OFF the Scott Catalog Prices. We also sell Discount Postage. Mail your 49c wnvelopes for as less than 35c.
Specializing in US stamps from the Classics to the Back of the Book, including, Errors, Revenues, Ducks, Confederates, and US Possessions.
In addition to Mint and Used Singles, We also stock Coils, Booklets, Plate Blocks, Sheets, and some Covers. We carry stamps in all grades and conditions from the highest quality possible for the most discriminating collector, to the lower grades for the price shopper. We have more than 3,000 stamps with photos in our "Advanced Collector" section, and that is only a small percentage of what we have in stock. If you don't see what you want send me a short want list. Give us a try. You won't be disappointed!
After 45 years of growing our business we have opened a second office. Our Purchasing, Auction and Wholesale Divisions are located at 12 Douglas Lane, Suite 3, Waterford, CT 06385. This offices is opened by appointment only. Our Shipping and Receiving Departments are still located in East Lyme. Our mailing address is: 32 Upper Pattagansett Road, Suite #31, East Lyme CT 06333-1150.
Our motto is: "Small profits often repeated." We will not be undersold. If you find a lower price in writing, let me know and I will Beat or Meet the price, guaranteed! A quote by Mark Twain that I live by, "Always do right, this will gratify some and astonish others." MILLER'S a name you can trust, since 1969, where stamps are not just a side line, but our only business. Like thousands have said, "DARN! I should have bought my stamps from Miller's.
Terms of Sale: All stamps are guaranteed genuine as described. If a buyer is not satisfied with a stamp for any reason it may be returned within 14 days for a full refund (excluding shipping). After 14 days a stamp may not be returned unless it was placed on extension to get a Certificate of Authenticity.
Expertizing: We must be notified at time of purchase that a buyer wishes to place a stamp on extension to have it certified. The return privilege is then extended an additional 100 days. Miller's acceptable expertizers are: The Philatelic Foundation of New York City, the Professional Stamp Experts of Newport Beach, CA and the American Philatelic Society of Bellefonte, PA.. A stamp may not be placed on extension for centering, previously described fault(s), sold as is, or was part of a set or lot that consisted of multiple stamps. If a committee deems the stamp other than as described it may be returned for a full refund. If the purchase price was more than $150 and the stamp did not already have a Cert. The refund will include the cost of the certificate up to $50. If the net purchase price was less than $150, or the stamp already had a certificate the refund will not include the cost of the new cert.
Returns: Stamps may not be returned for centering, previously described faults, or if an expertizing committee states "no opinion". Stamps must be returned in thier original packaging with a copy of the invoice.
Payments: Cash, Money Orders, Checks, PayPal, VISA, Master Card, and Discover are accepted. Applicable sales tax must be paid by the buyer unless the buyer has a valid resale tax certificate as a stamp dealer.
Shipping: Stamps will be shipped by U.S. Mail by the method we deem safest. We charge a flat $3.00 for shipping no matter how much you buy. We have paid as much as $40 for postage on large orders, so the more you buy the more you save.
Miller is a Life Member of the American Stamp Dealers Association, the American Philatelic Society, and the American Revenue Association. I am also a member of the United States Philatelic Classic Society, United States Stamp Specialist (former BIA), the Connecticut Postal History Society, and locally the Thames Stamp Club.
Miller is an ASDA Qualified Professional Stamp Appraiser and a Qualified Auctioneer. He teaches Stamp Seminars for the American Philatelic Society on several subjects. We are always looking to buy better quality US pre 1930. We especially like expensive stamps with certificates. But, because we run stamp auctions we will buy just about anything US or Foriegn, Mint or Used. Please go to our Sell Your Stamps page and send us a description of what you have for sale.