Internet - Public Stamp Auction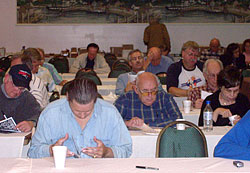 Click to VIEW Prices Realized for our April 29th PUBLIC AUCTION #143
Our April 29, Stamp Auction Prices Realized is now online.
There were 254+ Lots of Quality U.S. & Foreign singles, sets, collections, and box lots.
99% of all Lots have NO Reserves!
Send $1.00 for a printed copy of Prices Realized., or FREE online.
Reminder a 15% Bidder's Fee will be added to your successful bid(s) for Credit Cards, and 12% for Checks and Cash..
Connecticut Residents and attendees must pay 6.35% Sales Tax when applicable. Shipping will be paid by the buyer when applicable.
The Auction was held in conjunction with the MANPAX Stamp Show:
Saturday, April 29, 2012 at 3:00 PM at the Ellington High School, 37 Maple Street (Rt. 140), Ellington, CT. Viewing will be held from 12 Noon to 3 pm.
Directions: I-91 Exit 45, Route 140 East 10 miles.
I-84 Exit 64/65, Route 83 North 7 miles, Route 140 West.
The school is located on Route 140, half mile West pf Route 83.
Office Phone 860-739-9989
Our Cell Phone: 860-908-6200 (must use the day of Auction)
Note: Lots may be viewed in advance by appointment only at my office:
in East Lyme. Please call first 860-739-9989.
You may also view the smaller lots at any show that we are set up at during the month preceeding the auction.